VoIP Routing
The routing system is designed to be the core of the traffic exchange intelligence in terms of assuring maximum profit, quality or quality/price ratio generation. 
The routing decisions are propagated to the underlying VoIP and/or TDM switches via real time routing interface.
Routing highlights:
Real-time balance update to achieve maximum accurate user balance control.
Protection against negative margin (including rate errors on your side).
Manually defined static routing. If the system owner does not want to apply automated dynamic rules for some reason, easy management of manual routing exceptions (per client/supplier/destination etc.) are allowed.
Fail over. That is, if one provider fails, the next one is dialed. This is completely invisible for the caller and lets you increase the chances of the user reaching his destination. If one Provider is not capable of delivering a call, the system will try to use the remaining Providers.
Localization. Depends on the location of the user (or his device), it is often important to allow users to dial differently formated numbers to reach a destination.
LCR (Least Cost Routing) function supports different ways of routing. Supported routing modes are:
By Price – routes the calls using the cheapest routes.  (Least Cost Routing).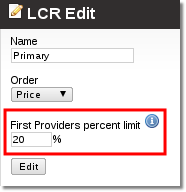 By priority–  call is routed by a predetermined order, not by the cheapest price for the destination.

By percent or Weight-based routing-  selects a route by percentage value of Providers. It is similar to Priority-based routing, except that here Providers are selected randomly with greater or lesser probability.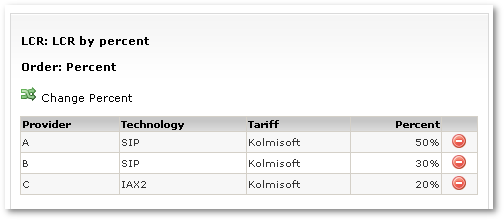 The user has one base LCR, so that all his calls are routed by some preset rule.