PINless and Calling Card
Prepaid PINless and Calling Card Solution for Service Providers
Prepaid PINless and Calling Card Solution for Service Providers
The PINless and Calling Card business is one of the most common business models in the telecom industry.
The essence of it is to creatively segment customers by various demographic or behavioral characteristics and to design calling cards offerings to meet their specific calling needs.
The calling cards business typically attracts entrepreneurs who want to enter a new market, businesses with established retail distribution channels, and service providers who want to diversify their revenue streams.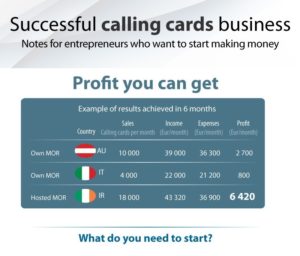 Who is the solution designed for?
Startup telecoms
Advanced telecoms
VoIP operators
Call shop owners
Calling card overseas agents, etc.
Supported features
Real-time Billing
PINless dialing / Pin-less Calling Cards
Rechargeable Calling Cards / Calling Cards Top-up
Calling Card Groups

Import/Export Cards in CSV
Configurable Card Length & Characters
Batch Management
Card Generation Utility

Speed Dials
Callback Support
Card blocking/deactivation
Distributor/Reseller Support
Online user portal
Multi-language support
Multi-currency support
Multi-tax support
Multi-fee support

Ghost minutes / Ghost balance
Number of Calling Card valid days
Absolute expiration date
Setup fee
Daily Charge
External Calling Card script (to add custom surcharges)

Calling Card Statistics

Total number of Cards 
Total / Average Balance
Total / Answered Calls
ASR / ACD Stats
Profit / Margin / Markup Stats
TRY MOR